Top Quality Installation of Air Conditioner Systems in Fort Lauderdale
If you are looking for a top-quality  State Licensed HVAC  and  Insured Air Conditioning Contractor  in South Florida,  look no further! Contact REEVE AIR CONDITIONING.
Established in 1957, The Reeve family has been helping generations of customers wanting an air conditioning unit to be PROPERLY installed.  For more than 6 decades  our Factory Trained Technicians  have satisfied the requirements to guarantee a flawless installation, regardless of the jobsite conditions.  In fact, prior to the installation, our qualified staff will carefully review your particular needs in order to make a recommendation for the most suitable piece of equipment necessary to maintain a perfectly comfortable indoor space.
Importance of Proper A/C Selection & Installation
Sure, there are many things around your house that you can handle on your own.  Carefully selecting and installing an air conditioner may not be one of them.  Many critical factors must be taken into consideration.  Certainly, the physical dimensions of the unit are just one factor.  Voltage, amperage, the NEMA rating of the power cord, the electrical outlet type and location is another primary consideration.  Further, the Circuit Breaker / Fuse size are key to assuring a safe and secure operating system.  Under sizing or oversizing the BTU capacity can lead to all sorts of problems.  A properly sized unit for the overall heatload of the area takes several things into consideration.  An improperly sized unit will not cool efficiently or may not adequately remove humidity… in a worst-case scenario, causing the formation of mold or mildew.  Moisture removal is a guaranteed by-product of the air conditioning cooling process.  It is simply impossibly to cool the air without dehumidification.  If a unit is not installed properly the internal water drainage system may not work properly.  We have seen epic DIY failures causing significant property damage which took years to become noticeable.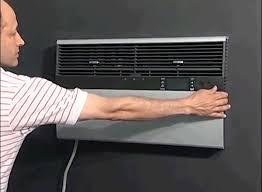 You can rest assured that Reeve will provide a proper Installation.
WE ARE YOUR IDEAL A/C CONTRACTOR
At REEVE AIR CONDITIONING, we are committed to offering you the best possible design and installation services.  We arrive on time as promised on a day that is convenient for you. You can trust our expertly trained and experienced technicians to get the job done right the first time.  We use state-of-the-art equipment and industry-approved techniques to install your a/c equipment.
100%  SATISFACTION GUARANTEED !
Exceptional workmanship
Extensive years of experience
Clearly written estimates
Reasonable prices
Professional, friendly and highly qualified staff
Prompt and fast service
Have any questions or inquiries?